About us
We are a showroom-store
and a framing and conservation workshop
Our businees started in 1997 with two spaces: a showroom and a laboratory-workshop.
At  LAB-ART we offer professional services of framing and conservation of original, classic and contemporary works of art.
We regularly provide our services to museums, foundations, art galleries, antique dealers, interior designers, artists, private collectors and the general public.
We have a wide variety of sizes, finishes and materials for the realization of contemporary frames as well as replicas of originals.  Also, we have antique European frames dating from the sixteenth century through til 1940.
We specialize in the conservation and restoration of frames, works on canvas, paper and sculptures.
Schedule:
Monday to Friday: 10:0 – 14:00 hs and 15:00 – 18:30 hs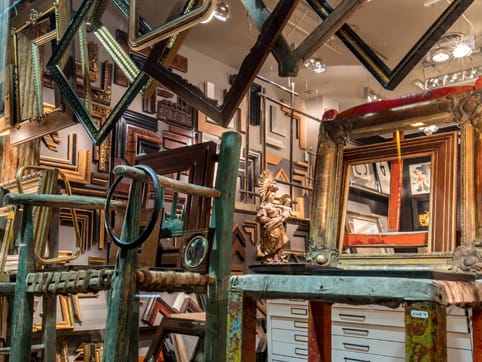 Some of our
collaborations:
– Ars Spatium
– Arts Santa Mònica
– Artur Ramón Art
– Azul-Tierra
– Blueproject Foundation
– Capella Arquitectura & Design S.L.
– Caritas
– Cimaises Encadrement SARL
– Círculo del Liceo
– Colección MANGO
– CultureSpaces
– De Nadal Fine Arts
– Direcció General de Creació i Empreses Culturals
– DKV Seguros
– Entitat Autonoma de Difusió Cultural
– Escuela del Mar
– Espai d'Art Punto Aparte
– Espai Zeross
– Estudi Regomir
– FAD
– Fundación Amyc
– Fundación Bosch i Gimpera
– Fundación Ferrer i Guàrdia
– Fundación Fran Daurel
– Fundación Gaspar (Gaspar Contemporart)
– Fundación Mapfre
– Fundación Palau
– Fundación Perramon De Ventalló
– Fundación Privada Elisava
– Fundación Rocamora
– Fundación Sa Nostra
– Fundación UPC
– Fundación Valle de Hebrón
– Galería A Cortina
– Galeria A34
– Galería AFN
– Galeria Almy (Ordeig Martin S.L.)
– Galeria Arcturns – Paris
– Galeria Barbié
– Galeria Carles Taché
– Galeria Clausine Papillon
– Galeria d'Art Àmbit
– Galería d'Art Mito
– Galería d'Art Petritxol
– Galeria d'Art Sadurni
– Galería Imaginart
– Galería Joan Pascual
– Galeria Jover
– Galería Juan Naranjo
– Galeria La Aurora
– Galería Loft Barcelona
– Galeria Maeght
– Galería Manel Mayoral
– Galeria Marlborough
– Galeria Miquel Alzueta
– Galeria Salvador Diaz
– Galería Tres Punts
– Galería Víctor Saavedra
– GaleríaJordi Barnedas
– Generalitat de Catalunya Depertament de Cultura CCCB
– Gobierno Militar
– Il·lustre Col·legi de procuradors dels tribunals de Barcelona
– Institut de Cultura de Barcelona CCCB
– KRTU
– La Virreina Centre de la Imatge
– Michael Dumen Art Projects
– Montcada Art S.L.
– Museo Textil de Terrassa
– Museu Can Framis. Fundació Vila Casas
– Museu del Vent
– Museu Nacional d'Art de Catalunya
– Mutua Madrileña
– National Gallery of Art (Washington)
– Pigment Gallery
– Principal Art
– Royal Academy of Arts
– Sala Gaspar
– Síndic de Greuges
– Soler y Llacht Subastas
– Subarna Subhastes de Barcelona
– Summonte Design Studio S.L.
– Transit Projectes
– Universitat Pompeu Fabra UPF
– Xenia Gaya Cultural Projects